Although it doesn't surprise me, it does sadden me to hear from so many supporters who have been bullied into silence. I know not many people are as head strong as I am.
But it's pathetic that the trolls are targeting people who comment on BLH. I found this list on Lisa Duran Luthi's personal page. It's a list of supporter names. People they were trying to harass and intimidate.
edited to interject some info here.
The list is titled "supporters". Just people who merely supported my family. Not stalker list. Not attacker list. And I know for a fact most of those people did nothing more than comment in support of my family. They didn't create pages and spend hours trolling FB.
If you have an issue with Lisa Duran Luthi posting your names on her target list, take that up with her. You might also ask to see the entire spreadsheet. As this is just a cropped portion of it. So what else was on their list? Addresses, phone numbers?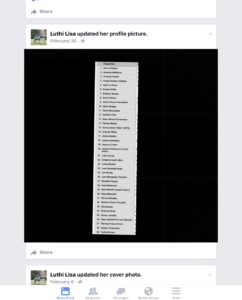 Ive been notified by numerous people that the trolls have posted personal info, made threats via pm, and even contact via mail and phone.
I don't know what to do. I don't know how to stop these people. But cowering down is not the solution. That's what empowers bullies.
edited:
I came across some new info that was important to share. This is what Lisa Duran Luthi posted on her troll page today. (Or yesterday). She's first pointing out a list of people and pages that was created to show who was harassing my family. It's obvious they were harassing, especially the pages. She then goes on to say how they made a similar list. And that's what was posted.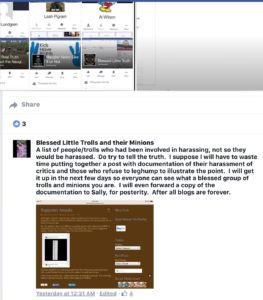 However, looking at that list and personally knowing a few, there is no way this is not a target list. Many of those people have made attempts at keeping peace. Even the trolls themselves admit that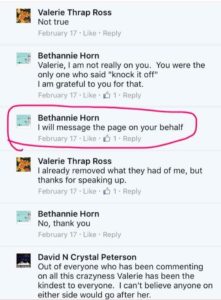 This is a screen shot referring to a page that shared supporter photos in an attempt to intimidate and harass. People don't want to be sucked into drama, so the trolls target them, in hopes they stop commenting on our pages. Valarie was one such target. Bethannie was going to message the page on Valaries behalf. Since they admit, Valarie has been kind. So why was she on their target list? Because she was a vocal supporter. That's all.
This brings up another issue. How does Bethannie have so much pull with this page? She was/is probably an admin, or she knew who the admin was/is.
I don't know why or how this has become a game of us vs them. These trolls feel that my standing up to them is an attack on them. They say if I just got offline, moved etc they would go away. I say leave me alone and I will stop documenting. All of this is about my family. I blog about my family, they blog about my family. So who's the aggressor here?
Edited:
I was going through some old folders of images sent to me over the past year. I found these. I don't have a date, but these are photos Lisa Duran Luthi posted towards people she had on her list.
Now we could go all day with who said or did what first. I don't know who all said or did what. I only know what I have said and done. I know that when a friend is on a list of people who Lisa claimed bullied her, I do know it's a lie.  I do know that they targeted people for simply being my friend. They targeted people because anyone who would support my family must be just as horrible as we are. These are things that were said by them.
But it needs to stop. I've asked for over a year for it to stop. Recently I've posted requests asking for them to stop. Lisa and Sally and their other troll friends like Cheri Wheet Beasly said "No!"
Loading Likes...