There are some people who can't get over the fact that my children are actually healthy and cared for. These people have gone to great lengths to cause trouble and are trying to put my children back in foster care. Regardless of the manner of which my children were taken, there were never any criminal charges filed. but this only infuriates the "trolls". This becomes a concern to me because it's more than an ignorant opinion. Their actions have a direct effect on my family.
These people have made several attempts to suck us back into the legal system, first with the goats, then with the compost. After Thursdays inspection, the trolls are festering. They are now working on another smear campaign. This time dragging my sons into it. The other day my family was working on the homestead and needed to get gas for the generator. While they were getting gas a young lady pulled up and was acting odd. Locked her doors and went inside. Joe figured it was the daughter of a local troll, Al Wilson, based on how she kept looking out of the corner of her eye at them. But we weren't sure till Al posted later accusing my husband of stalking his daughter.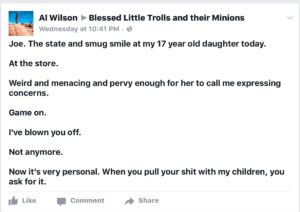 Of couse it's all bullcrap. The incident was pure coincidence and my husband isn't a creeper or stalker. I will note that yesterday this same daughter pulled up alongside my husband as he was pulling into the pet salon, some 30 miles from the local corner store… I'm not sure if that's another coincidence. Maybe she was sent to take another photo of the pet salon. Who knows.
But of course it doesn't stop there. Sally Davis, the blogger from Russel Springs, which is about an hour and a half from here, had to embellish it. And Lisa Luthi, the retired attorney from Lousiville, has to interject, even claiming to have talked with my son, Quinten, who is 15 and not the oldest. He's also not much of a talker. Jacob is the oldest and the chatterbox. Jacob is blonde, Quinten is dark haired. They look nothing alike.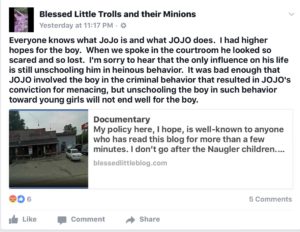 So the blogger goes on to tell their made up embellished story to suck the readers in. Note the language control. It's a tool used to manipulate. And Sally is good at manipulation. Sally is a parasite. She cannot market herself so she leeches on to others, Cathy Harris, Nathan Davis and now us.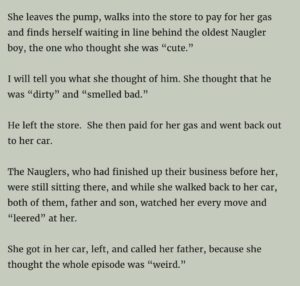 So the stories are different. Quinten had no idea who was in line and he doesn't think she's cute. He was dirty and probably did smell bad. It was a hot day and he had been weed whacking. My family left before this girl did. No one watched her every move. It was weird.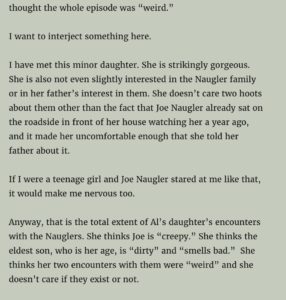 I could parrot this interjection. Except my boys are concerned with Als interest in us. No one was watching the daughter last year. I was in the vehicle and I was the one who confirmed the address of someone who was publicly posting about us claiming to be a neighbor. We wanted to confirm who exactly it was that was so focused on us. It was in fact a safety concern, and since Al has admitted he likes to drive down our one lane dirt road to no where, I don't think he can claim victim. Although the has made it clear he seeks to punish us. We happened to notice the home one day, as we were driving to the lake (beach day!) Al lives right on 690. A major road that takes you to the river.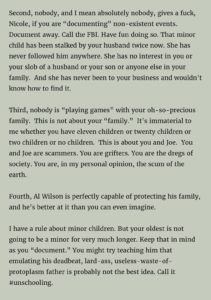 Im well aware of Sallys arrogant lack of concern. I'm still documenting my life. Maybe I will even cash in on my gravy train. No one cannot possibly argue that you can pull up behind someone and claim they are stalking you. Dear god Sally if that was stalking what in the hell do you call the caravan of clowns that passed my home not once but twice last month.
This is about my family. It's about each of my children that these people are fixated on. We have not scammed or grafted or whatever the hell she pull out of her thesaurus. But yes, please make your intentions clear, Sally Davis. You are showing your true colors. We are not the ones baiting and spinning drama. We are documenting our life, which up till last year, was mostly posts about our day to day activities. Now we have to counter false allegations in order to keep this little mob at bay.
Loading Likes...