I drive over 300 miles a week commuting to and from work. It's a lot of miles. It's mostly back roads. It's not a bad drive most days. If I am running late in the mornings or worn out from a long day the drive seems longer. I do have the option of a few different variations to my route but I usually take the same one.
Ive been wanting a better commuter vehicle. The big vans be not good on gas mileage. We are talking 12mpg. The Nissan was great but lacked space and it was a car. In poor weather it wasn't as reliable as needed. Plus it was 17 years old. But a few weeks ago the NIssan died. And so it was time to get a vehicle better suited for me.
We looked at a few different vehicles and went with a Honda CRV. It's a great little vehicle. It's all wheel drive. It seats 5 and has storage room in the back. It's excellent on gas, we get 22mpg.  It's in great shape and has a brand new transmission and new tires. And it's fun to drive.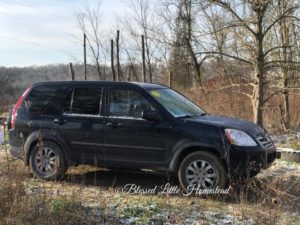 Loading Likes...