Law and order isn't as cut and dry as you might think. Most laws, or the enforcement of them are a violation of the 14th amendment.
"All persons born or naturalized in the United States and subject to the jurisdiction thereof, are citizens of the United States and of the State wherein they reside. No State shall make or enforce any law which shall abridge the privileges or immunities of citizens of the United States; nor shall any State deprive any person of life, liberty, or property, without due process of law; nor deny to any person within its jurisdiction the equal protection of the laws."
Due process is often restricted. In Kentucky all family court proceedings are not given a jury trial which everyone is entitled to. This is the case in 14 states.
If you are charged with a crime, innocent or not, the prosecutor doesn't want to hear your story, they just try to work a plea deal. If you try to argue your innocence, they just intimidate you more.
They also enforce laws unfairly. That's a more obvious infringement. Cops make up laws on the scene, enforce laws they misunderstand and prosecutors just try everything that can make them look good, so when they run for office, they can brag about how many criminals they have fined or locked up. They know you won't look to see that they locked up some dude for getting stoned at his house or fined someone because a goat got loose. They want you to think they are saving the world. They are just securing a paycheck.
This was a discussion on my NCN page today. But I wanted to expand.
Over a year ago our goats got loose into the yard next door. They didn't cause any damage (we were never sued for damages). The county attorney cited my husband -not me, even tho my name is the one the property and the goats are mine- for violating this statue. KRS 259.210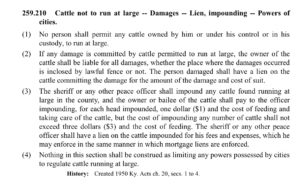 Of course in a huge waste of taxpayer money a court date was set and two head bully trolls escorted my neighbor to court. The case was deferred (that's what they do when they can't actually prosecute you yet don't want to leave you alone). It will be dismissed April 2018.
But this is where I address the equal protection. Is cherry picking laws to enforce unjust? Is cherry picking consequences to convictions unjust?
How often are animals seen "at large"? Just yesterday we passed a calf grazing on the wrong side of the fence on the shoulder of the road. Should all offenders be brought into court? Maybe after 2-3 offenses, but what if this was the first offense as in our case? What should be the consequence to those actions. The KRS only cites fines for impounded animals. What if the animals aren't impounded. Most times someone either finds the owners home or posts on the local swap sites. And it's also common to see someone posting for a lost cow, horse, pig, goat…. do we bring everyone to court or just the people who have been targeted for some reason.
If you think laws are set up to protect you, you are wrong. The real livestock at large are the taxpayer cattle that buck the system.
Loading Likes...