"That's the troll phenomenon, right I mean that's what everybody bitches about about the Internet, because everybody is open to all of these troll attacks and these troll attacks again I think are a reaction to being overwhelmed. In other words, I can't accomplish anything in my life so I'm just going to spend all my time putting people down and saying the most outrageous things I can say because at least that way I'll get likes or thumbs up or whatever, attention."
"It's this idea of public shaming too, which I find interesting, that no one can make a mistake anymore, if they make a mistake then they are told they are liars or they are perpetuating a fraud, or perpetrating a fraud rather, I've run into that, I've had mistakes where I've put up things on my Facebook page erroneous information I realize "oh my gosh it's erroneous information" or there are plenty of people who want to make a fool of you, there are satire sites out there , people who want to spread rumors on the Internet people who want to say you said things you haven't said, they go to your Wikipedia accounts and they vandalize those, I means it's happened to the best of us, but it just seems to me this is how people react and they go to dirty tricks to kind of pretend to be glorified journalists and they are nothing, but, like you say, trolls."
~Clyde Lewis & Joseph Green
My husband listens to this show on podcasts. I caught this show one day. This statement spoke so loudly to me I sat for 30 minutes and transcribed it myself. I think it's 99% accurate 😉
I have been calling attention to the trampling of rights for years. I was ready to stand up for my family if need be. Having been threatened before, I knew it was just a matter of when. It would have been better had I not been pregnant and hormonal. Maybe. We wanted the story heard. Not the story of the Nauglers, but the story so many families bullied by the use of CPS.
However, the real story was over shadowed by those who don't want our story told. By those who think a few bad checks from the 90's and an eviction or two was a more important topic. We call those people trolls.
The other day I posted a blog with a few screen shots. There are thousands collected by several dozen people who send them to me along with  my own. Just a note:  I will not remove any screenshots or edit them. If you are in the screen shot, you willingly made a public comment and are part of the story. Don't post silly cease and desist comments. If you need to send a formal complaint, contact your lawyer. Put them on speed dial, I'll be posting more.
Today I am going to share this one. And yes, we know, it's not about the children, it's about putting me in my place and silencing me. As my daughter would say, good luck with that.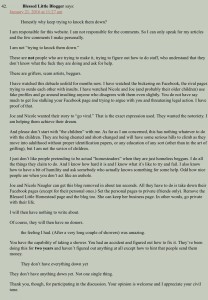 I have no problem with those who disagree with our life choices. Chat all day about how you think unschooling is terrible. Proclaim your love of the state and all its glory. Brag about your paid for home and indoor plumbing. Seriously. Threre are plenty of things worth writing about.
Loading Likes...