Bethany Horn and her husband Paul live in Stevensville Montana. No where near Garfield,Kentucky. Bethannie has been bold in her harassment and defamation mission. Bethannie has this idea that she gets to dictate how we live our lives. Which is fine, a lot of people have the opinion they can live other people's lives better than them. But Bethannie has taken it further and has spent many many long hours trying to force me to obey her demands. She's stated she will do this until my youngest is 18.
Bethannie is the idiot who insisted my goat has a gash on her neck. She's also admitted to making a report to the local health dept. oh the list goes on. I did make a 20 second? call to her job last year. I said that one of their employees was using company time to harass me and I was including that in my report. What said was 100% truth. It was just to notify them. What they do with that info is up to them. I didn't post a photo of her child and my husband isn't a pedofile.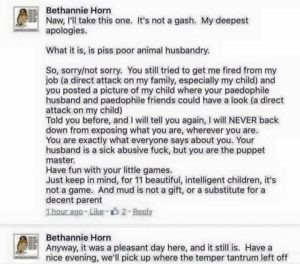 After I made a comment on the FB page, sure enough a list of demands pops up. So I decided to respond, for those who might be wondering why these people are crazy obsessed with us, and what they expect. I'm still mind blown that this little bitch has the audacity to tell me what to do, or else… It's just a show of how little power she has in her own life.
Apologies. We've caused no one trouble. We have not trespassed, we have not cut anyone's trees, nor have we attacked anyone on or off road etc, etc, etc… Our compost has NOT infringed on anyone. Even the health dept has admitted threre is no evidence to back up those claims. As far as animals at large, my goats were not an issue until March, when interestingly enough they were fenced in. I will address the neighbors dogs who run wild, poop wherever the hell they like and may have possibly killed some chickens later.
Im not asking for anyone to donate a septic. And I won't buy one. Period.
We WILL NOT build OUR home to your specifics.
We would love to get a new wood stove. But the one we have works just fine.
FREE SPACE. This woman actually thinks she can bully me into complying with her demands
we do plan on getting a water containment system for rainwater collection. But for now what we do works just fine.
Bwah Ha Ha Ha! How about NO!
We have a crap ton of firewood on the homestead.
You have no idea how we interact with people nor what we do for others. And I'm certainly not going to post for your benefit.
My children's medical needs are taken care of.
So let me get this straight. You people are all flipping out because we have a paypal tab on our blog, but you are perfectly ok with us getting on welfare. You must be a special kind of stupid. And our cooking methods are just fine, although we would love a little cast iron propane cook stove, in case you want to buy us one.
Loading Likes...