I use to be a blogger..I use to blog often.. lately, not so much. I think part of it is that I am still trying to adjust to the use of the smaller devices and apps to blog vs using laptop/desktop computers. I also think Facebook just makes it faster and easier to post short blurbs and its made me a lazy blogger…
We are 11 weeks into 2016. We are starting to get back on track. This past year has been one of the hardest. But like the rest of our life, its in the past.. Once again, we take what we have learned and move forward. That's what we have always done… moved on.
So I am making a goal to stay on top of The Homestead Journal and write each week. Not for you really, although I am glad you enjoy reading our blogs, but for me. I am not a "writer"-my grammatical errors and my excessive use of commas and ellipsis exclude me from from any official title, but I enjoy writing. I also want to spend more time on my photography. I have my camera tucked away in a box, it needs a good cleaning and a new battery. I just need to motivate myself to get it in working order, again, my iphone is just easier. Technology is a double edged sword.
The business is doing well. I am pleased with where we are at after 10 months, especially considering what that 10 months involved. This move is a blessing in disguise even tho right now it set us back financially, it set us on a slightly different business path that will be more suited for us, and our clients. For those that have been curoius, our loan with Capistan is still active. The Capistan group~ a group of individuals who made private loans~ is still functioning and as the salon pays back the loan, the group can expand. We appreciate the opportunity to have this resource to fund our business. I do want to clarify, the Capistan loan was initiated in February 2015, months before the CPS case and the GFM and was completely separate. Capistan funds were a loan, not a donation. For any more info on the group itself, you would need to contact Capistan via their website or FB page.
On the homestead, things are starting to take form. Its been a long drawn out process. We bought this property back in October 2013 and we knew it was an uphill journey. We had planned to do quite a bit, but time, money and resources weren't always available. When we took the property I was working for a busy pet salon, then things had slowed down and I needed to take new employment. I was promised a job that would sustain my family. After the first few weeks into it, it was clear it wasn't. My previous position had been replaced. Lesson learned when looking for greener grass. This led to over a year of income instability and moving through 3 grooming salons and finally out on my own.
In the meantime Joe worked part time jobs and tried to pick up odd jobs. Our goal for last summer was for me to focus on the salon and Joe and the two older boys would work barter and cash jobs to get supplies for the homestead. This was in the works and being implemented before it was all derailed in May.
The list of projects here is never ending. Our day is mostly filled with the normal life routine, meals, chores, homeschooling and basic homestead maintenance. Everything else is done based on budget and time. When we moved here we thought we would have most of it accomplished by now. Tools are expensive. Supplies are expensive.  Projects take so much longer than we estimated. There are several trash dump areas on the front part of the property, and its not a matter of picking it up, we've done most of that part, we need heavy equipment. It was vacant for many years and the locals say it was used as a dump site. We've cleaned up two areas aside from what we need a dozen for. You can see in the photos what we are referring to. We rented a very overpriced dumpster but we will need to do it again. Its a wreck.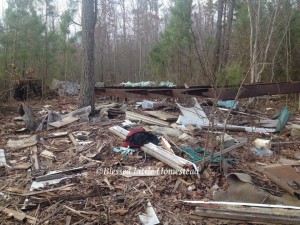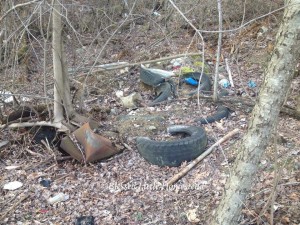 We wanted the cabin tucked back into the trees, but the "driveway" is to muddy and eroded to get anything back there.( the one you see in the mud videos) . It will be easier to haul materials for the cabin we plan to build but materials aren't cheap. We hate the fact that we had to buy a prefab last minute. CPS said the "shack" was ok for summer but we had to have the cabin up by winter. Which already our plan, before they even stepped in. I did not want to spend a second winter in it. It was designed as a stepping stone, and it served its purpose, and now has another. Neither we or CPS thought the courts would keep the children 8 weeks, the larger duration of the summer. we had made plans to move ahead with the cabin build in late June, as we didn't know when the children would be home, but they fell through. By request of the GAL we had to have the prefab put on the property before she would approve the children being returned. So we had 2 days to get a cabin to have the children home that week… so we bought a $9,000 prefab and had it delivered the next day. It was a terrible financial decision, but I would have handed the judge the $40k cash if that would have gotten our children back. Now that our minds are clear, we would have done a lot of things differently, but this was uncharted territory, and no one knew what to expect. Nothing we can do about that now.
So anyway, here we are, in the midst of it all, doing what we can to achieve our goals. and making progress, even if its too slow for some. We have finished clearing the spot for the cabin and will be starting on it April 1st, building as we can. Part of me is considering tenting it if we could sell the prefab and using that money for the new cabin. But I should ask the state permission first, before making such radical decisions LOL
We have put  the goats back up for sale, and focusing on chickens. Abigail wants to keep a female kid for a pet, and one older male for meat and hide. We have planted the first set of crops and will be planting a set every Sunday.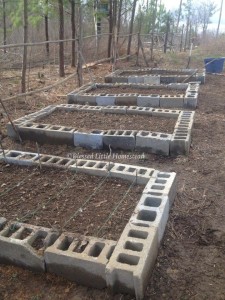 I will also be adding more to our You Tube Channel as well.
beautiful view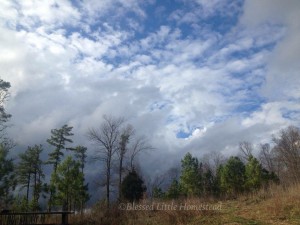 Outdoor sink… And I realize there is mud on the mirror, welcome to homesteading with children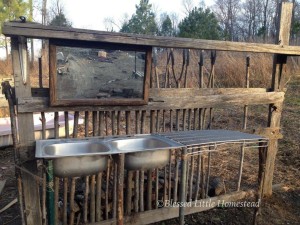 Loading Likes...