I am the sole provider for my family, I am the owner/operator of a very busy pet salon. My husband is a stay at home homeschool dad of currently 9 children. We mind our own business and keep to ourselves.
For the past 5 years local/semi local individuals like Lisa Luthi, Nancy Furman and Al Wilson have kept tabs on us. They often use minions to do so. They monitor our home and business, even going so far as to go out of their way to make friends with our neighbors to get closer to us and to get information
A few years ago (not long after that started) we moved our cabin further back on the property, and last year we moved back even further. We needed more privacy. The helicopters can still fly over but I have made enough calls about the harassment that those have pretty much stopped.
But the stalking and harassment hasn't. To this day we are still monitored. Since my business is public they have been focusing on that even more. When the virus began they used that as an opportunity to stalk and harass us more.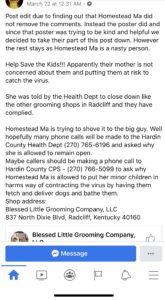 As of March 22nd I was not asked to close. I was practicing CDC guidelines, closed to the public doing curbside drop off. This did not stop these people from harassing my family and business and recruiting others to do so as well
On the evening of the 23rd the governor ordered all groomers to close, including mobile grooming, so we did.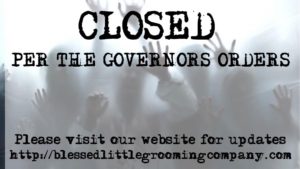 Someone from our family has stopped by randomly to check on the salon, feed the animals, etc. But we were closed all last week. 5 days of lost income. I am working from home on the non grooming stuff, paperwork, photos, bows, marketing etc. I half joke that I have two jobs, grooming is about 40 hours and management is about 20.
Yesterday I was at the salon for several hours. We had some deep cleaning to finish as we are using this time for that, I took care of our aquatic pets and did maintenance and we groomed all of our dogs, and one of the cats who insisted on going with us.
This morning I discover another post about the harassment of my family and business
You see a few of my clients joked about grooming. Nancy, Lisa and the others use every opportunity to harass us, and even harass my clients. Ive had clients tell me that they were contacted by fake profiles that say "do you know who you are supporting?" and send them links to Sally Davis' tabloid blog or some of the other tabloid links. The information is not factual even if it contains a few facts. Its defamatory. Its malicious.
We have worked very hard to get where we are at. This setback everyone is facing will be hard on most everyone. Its disgusting to see these people use their time, energy and resources to continue to harass my family and my clients and not to help others in need.
But I'm not surprised. They've never cared for the well-being of anyone including my own children, who they pretend to have concern for to garner support. They are opportunists who take advantage of others dire situations for their own entertainment. Its clear to see as you scroll their pages, websites and podcasts. They are true narcissists. They are desperate and dangerous.
Loading Likes...