Technically it's a Lofted Barn. Our previous one was a Lofted Cabin. We bought ours from Built Rite Barns. We have worked with two local dealers, a Mennonite family out of Hardinsburg, KY and another dealer out of Irvington, KY. Both are great to work with. You can chose any model you like, depending on what works best for your needs. While the porches are cute, it's better to use that for interior space and just build a porch.
As renters we have lived in every type of home. From single wide trailers that were roach infested and falling apart to huge beautiful farmhouses. We have lived in places with land, and we have lived in sardined trailer parks.
So when we finally decided we just couldn't rent anymore, we sat down and discussed what would be best for us.
1. Land. Land was most important. Space for the children to run, space to have some privacy, and space to grow food, build things etc.
2. Open floor plan. We have lived in some tiny places. When our 8th child was born we lived in a small 2 bedroom house. It actually worked for the most part, and with the right floor plan, it would have been enough space, provided we had a bigger yard.
3. Cost and maintenance. The two homes before this were both huge 4 bedroom homes. And we only used maybe half of it.  Why spend time, energy and money on living space we didn't benefit from? With a blank floor plan, some organization and a minimalist mindset, we have enough space to be comfortable.
When we looked into ideas we thought the best way was to move onto the land mid spring, when it was just warm enough to camp, and build a small cabin by late fall, before it got too cold to camp. But opportunity presented itself in the fall, and we couldn't manage the land and a home till spring. So we decided to get a rent to own lofted barn.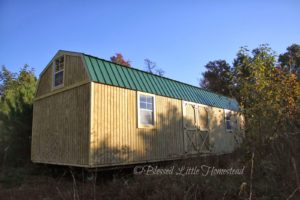 We used the cabin through spring and summer and with our  employment situation at the time,  we decided we weren't getting ahead paying for both the land and cabin payments. We sent the cabin back and built the infamous "3 walled shack". Which actually had 4 walls, because why would we only put up 3 walls, especially in winter? The cabin was a bare bones structure to keep us warm, dry and safe till spring. And it did.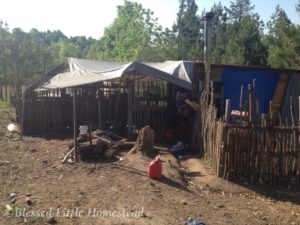 Our plan was to build the permanent cabin over summer, as we had originally planned. When we found out we were pregnant, our deadline was to have the cabin ready by September. My husband and the two older boys were going to build the cabin with mostly bartered or donated materials. This would give us a paid for cabin.  They had a few jobs completed, and a few more lined up when the children were taken and everything thrown off course.
*CPS had inspected and approved the "shack" and their only stipulation was to have the open wall back up by winter. We had taken the wall out to offer a more open camp type feel and didn't plan to be in the cabin come winter anyhow. CPS said that was even better. As our case progressed the GAL continued to put up roadblocks. She said she wanted to show we were vested in the community and not looking to leave. We needed to show we weren't going to get our children back and "run" (even tho we had just built a new business and was doing well even in our first two months AND had permission to relocate if we chose, we would just have to return for court). She knew we had the GFM money and wanted us to show proof of building materials purchased or get a new prefab. So we bought the prefab. Our children were home two days later. It was her way of controlling and depleting our funds.
So we bought the biggest prefab on the lot. It wasn't as big as we wanted, but time was key. We finished out the cabin- put in insulation, walls, flooring etc as quick as we could and moved in. We got the basics, but we still had the bare bones mindset of let's just the new (permanent) cabin built. So we didn't soak any more money into the prefab.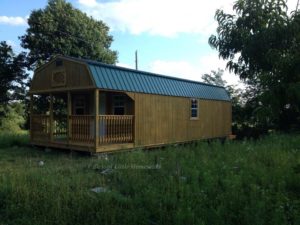 Well a few months turned into 24. We decided to go ahead with another prefab. They are affordable and built well, and considering we aren't expert builders, it made more sense. We have a 16×40, which is the biggest width they can transport in Ky. We designed everything about the layout. We chose to put 7 windows on the back wall and 4 large windows on the front. You can see our cabin here. We are still finishing out the cabin, we are working on the kitchen and bath soon.
---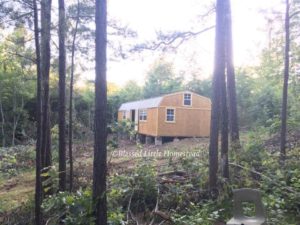 The shed home movement is quite large. Many people have chosen these buildings as homes. You do need to know your areas rules on what you can and cannot live in. Some areas are more restrictive of your right to your life, liberty and persuit of happiness. These buildings make a great start to your custom home, and for a lot less than a traditional home. With all the improvements our finished cabin will be right around $20,000.
So how do we fit 12 people in a 16×40 house? Well let's talk about minimalism. Minimalism is living a simple, clutter free life. If you want to learn more, how others apply it, link over to here. For us, it was a way to allow us more time for the things we want to do. It was a way to control the unwanted chaos (we like the good chaos) in a large family. We wanted more peace in the home.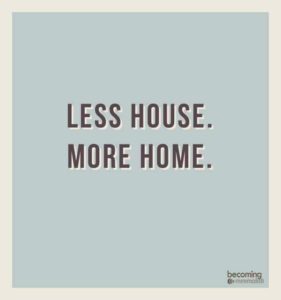 In the big homes we lived in we had more space than we needed. And we had all of our stuff scattered all over the place. It was difficult to organize and we tended to have more stuff than we needed. In the cabin now, we have the layout so that everything has a place and things run smoothly. We don't have room for clutter, so we don't accumulate it. The children each have their own space for personal items they are responsible for, and family areas are kept tidy.
We are a close family. We enjoy spending time together. We don't feel cramped most days. It's a comfortable setting. I'm sure not all families would enjoy tiny house living, but we like it.
Loading Likes...