Quinten is the reason we started unschooling. He wanted no part of standardized education and we were doing a lot of the "school at home" methods. It was a battle until he was about 10. We decided to allow him to do whatever he wanted for school. Letting him choose was the best thing we did for him.
One of the things Quinten was drawn to was building things and tools. His toys were things like hammers, nails and scrap wood. Last year, he was really inspired by Abby who made the furniture for my salon. When she moved she gave him one of her older saws, and between the homestead budget and the boys working (and some of the GFM money) we've been able to build a great tool collection. He's helped build just about everything on the homestead and did the chicken coop himself. He's also helped work on a few projects outside the homestead including the salon rebuild. He's got a good eye for it, and does good work. And he's learned far more about reading and math than he would have being forced to do worksheets.
Now he's starting his own business. A month before he turns 16. He's started with these boxes. These are really nice. He made a darker stained rectangular one for himself as his first try, this is his second one, Lucas has claimed it. He needs to put a handle on it after Lucas chooses the one he wants. He will make 8 more, made for each of his siblings. He will then start selling these and other projects to the public. After seeing the door he and Jacob built at the salon he's received a few other project orders. We are all really proud of him.  I can't wait to see what other projects he produces. If you are local and have something in mind, you can contact us via the contact form here or via our FB page.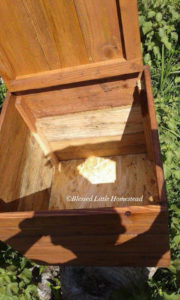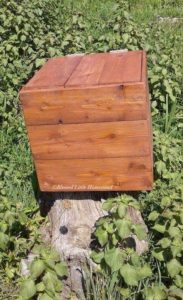 Edited to add: he's finished Lucas box while Lucas waits impatiently lol. And his first box
Loading Likes...