Olivia and I made these adorable gnomes today. They are super cute and easy to make and only cost about $5 in supplies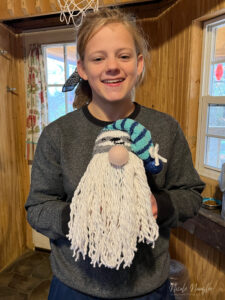 I completely forgot to take photos during the process but its so easy I can talk you through it.
Supplies:                                                                         I got most all of it at Dollar Tree (Per Gnome)                     1 pair of cute stretchy socks                                                       1 bag of rice                                                           Small Christmas Ornaments (I used one for the nose and one for the hat)                                           Scrap fleece for the nose (optional)                           Cotton Mop Head
Glue Gun and Sticks (I got those at Walmart-already had those)
Take one sock and put the unopened bag of rice inside the sock. Adjust it so it sits well standing on its end. Fold over the extra to make a flat top. Take the mop head and gently pull the strands from the mop head. Once you pull a few the rest come out easier.  Glue the strands to the top of the sock body. I used about half a mop for the hair. Once those are glued and dry use your fingers to separate the strands to look more like hair. When your hair is nice and full, part it in the middle and about 1-2 down glue the beard using the same method as the hair.
Grab one of the ball ornaments and wrap with fleece or use as is. Glue the nose just above the beard.
Take the second sock, cut just the tip of the toes off. Take the sock and put on your gnomes head using the end you think looks best (if you bought pattern socks. Once you have decided which end is the tip of the hat, flip the sock inside out and cut the tip of of the sock at a slight angle and glue back together. Let cool and flip right side out. Attach your decoration to the end of the hat and add any other decorations.
Place your hat back on your gnome, make sure everything looks good, then glue hat in place. Trim the hair/beard to desired length, give your new friend a name and find them a comfy place to sit. Now you are done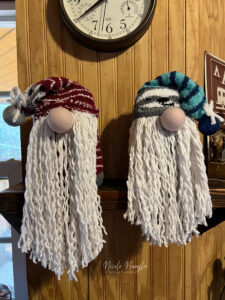 Loading Likes...