For 2 1/2 years we have lived on this property. For 2 1/2 years we have composted our waste. A year ago the state fully investigated my family, including the homestead. They knew about the composting toilet system. It wasn't an issue.
I've blogged before about the trolls. The locals in particular. The people who are putting forth every effort to put my family in harms way. They have made it their mission to do so. This is where the report to the health dept comes in. It was a unsubstantiated call, to once again, put my family under the microscope and try to get us to move.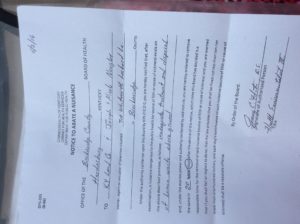 We got a notice dated May 2nd to abate a nuisance. (Due to post office hours we aren't able to pick up letters quickly). The notice cited "Inadequate treatment and disposal of human waste above ground" My husband called the health dept the next morning to inquire about the notice and spoke with Jeremy Hinton. We were told that we were contaminating the adjoining property. We knew this was false. Since we were composing our waste and properly disposing it and not creating a nuisance, we figured the matter was resolved. The next day a friend notified me of a local news story about our notice. Seems the trolls wanted to make us uncomfortable. The original story was inaccurate and clearly biased. I also want to note the reporter has been linked in association with troll groups. We quickly notified 2 local news agencies to get our side of the story out.
WDRB Story  WAVE3 Story  Full Audio of Phone Call 
My biggest issue was the assumption of guilt. There is no reason to believe there is any contamination of our compost. Just because a few people called "and stated so" the county acted upon it. Seems like we did this little witch hunt last year. We then contacted state officials to be sure everyone was on the same page. We were advised to file for a permit. On May 18th we went to the Health Dept and you can hear the audio. We were told they had no knowledge of the type of permit we would need. The next week, after the original deadline had passed, we received a letter explaining we needed to install a septic system and the deadline had extended to June 1st. Because we are not interested in a septic, we continued to try to reach the state offices, leaving numerous messages.  Marcus Avery from the Dept of Agriculture finally called back on June 2nd. He stated that we did not have a proper composting toilet and when asked how he would know this, considering he's never done an inspection. He noted a FB photo of the outhouse, which is not the system itself.  He also stated that there's no possible way that composting waste in a manner which we described is functional or sanitary. Once again displaying the complete ignorance of the state.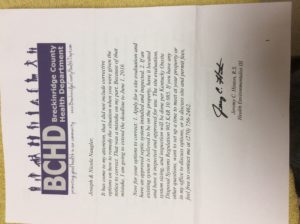 Being that neither party understands how composting humanure actually works, admittedly by both of them,  I requested that they both read the humanure handbook before inspecting our system, as their ignorance of the matter has led to bias. Mr Avery said he would but reinterated Jeremy Hintons position that " we will just let the courts decide"
On June 3rd I got a call notifying me we had a court hearing on June 14th. So here we are, letting the courts decide. We pled not guilty of course, but we have a court again in two weeks.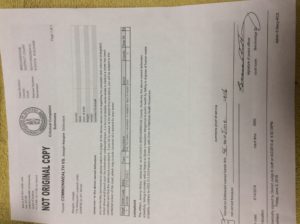 The original issue, us contaminating anything is untrue. It's not possible. Even if our compost was leeching, it wouldn't effect my neighbors. This is a video taken on May 13th. It shows the landscape. This video I took (my phone had died) also shows the landscape.
So this is where we are. We are contesting the contamination aspect. That should be open and shut, but I am not holding my breath. We do need to file for permits and have a site inspection. Which I have agreed to since the beginning. We have acquired a portapotty and have suspended our composting until we can get the proper paperwork as this requires many hours of writing up the reports to be submitted and the budget for the subsequent fees are things that will not allow this be done in the timeframe allotted. Hopefully this resolves the matter. I will update after our next court date.
*edited to add this. We did not have a permit. However, not having permission does not equate a nuisance. It's just a lack of permission. It has no bearing on whether or not the system is done properly. If anything, by definition, the state is the nuisance. They have unlawfully interfered with my right to use and enjoy our land. Our compost has not ever and still does not inconvience, bother or burden anyone else.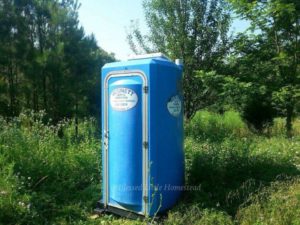 We had court June 14th. We went in and it was just an arraignment. The judge cited the charges and reset the court date. June 28th we spoke to the county attorney Bradley Butler and explained our side. He said that Jeremy needed to confirm our use of the port a potty.  I clarified if he just needed to confirm or if he needed to inspect the county attorney said he just needed to confirm there was a port a potty. We contacted Jeremy Hinton's office and told him that we were available on Thursday mornings. This coincided with the cleaning of the Porta potty by the company who we lease it from.  This also allows for a third-party person to be there when Jeremy came.  One morning while we were at one of our schedule beach days we get a voicemail from Jeremy Hinton saying he's on our property.  It's 1030 on Wednesday morning not 945 on Thursday.  I contact him through his office.  He said he had a busy schedule blah blah blah.  We to have quite the busy schedule and he made no attempt to contact us he just showed up.  I asked him if he saw the Porta potty  he said yes.  I said that should be sufficient and he said no he had to do an inspection.  He again he said will just let the courts figure it out.  We went to court on the 19th and Bradley Butler  agreed with Jeremy Hinton that there needed to be an inspection.  (We do have those conversations recorded and will have them up at some point.)  we scheduled the inspection for July 28.  Our next court hearing was August 2.
live feed 1 https://www.facebook.com/MyBlessedLittleHomestead/videos/1303404283004779/
live feed 2 https://www.facebook.com/MyBlessedLittleHomestead/videos/1303413039670570/
August 2nd Jeremy Hinton was ill and court was reset for the 16th of August. So that's 5 court dates and a site inspection.
On August 16th Jeremy Hinton gave us the paperwork for the permit for the compost toilet. (We had aquired it weeks before from an attorney.) He said that we just needed to fill that out. He'll do another inspection. Thats it.
–On May 18 we requested the permit.  We were told they didn't have one.  From the beginning we were met with hostility.  We were falsely accused of contamination. Our name was degraded in the media based on biased reports from both print and tv. This is dragged out for three months.  I missed 6 work days.  There was never a need for this to go to criminal court, this is just one more example of being out right attacks we are getting from the government and citizens of Breckinridge Co, KY.
All of this for composting without a permit. Operating outside the scope of government. Because freedom.
And of course we got souvenirs.
I didn't realize that both the tabloid blog and I posted an update on my life last night. I had a few requests on the permit info, so I decided to make another update.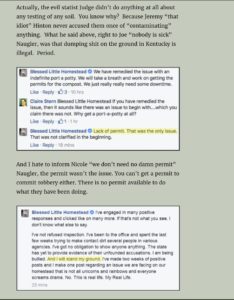 So Sally Davis and David Davis of Russel Springs Kentucky. What do you think about this?
DFS form 345
https://www.pdffiller.com/11971466-DFS345pdf-DFS-345—Kentucky-Cabinet-for-Health-and-Family-Services—chfs-ky-Various-Fillable-Forms-chfs-ky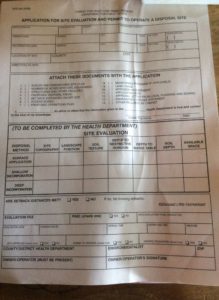 902 KAR 10:150
http://www.lrc.ky.gov/kar/902/010/150.htm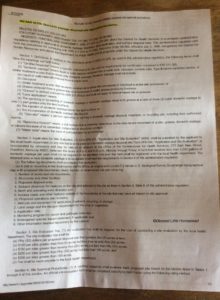 And yes, Al Wilson of Custer Ky. It is some funny shit. If you all just weren't so pathetic.

So are ya done? Or are you keeping this insanity alive? As long as you continue to harass my family, I will continue to document it. And no. You are not far more hardheaded than I am. Especially considering my motives. I'd really like to see it end. My best advice to those who continue to harass my family. Stop. Just stop now.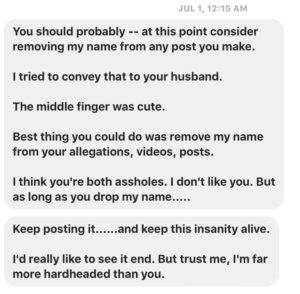 (This is the message Al Wilson sent to my business page because he is blocked from my profile and BLH page. The reason being I didn't want him contacting me. Unwanted messages is harassment Al)
Loading Likes...