I'm really discouraged about how much negativity surrounds pregnancy. Every aspect of it. I've been fed it my whole life as far back as I could recall. In high school pregnancy is discouraged by making pregnancy and parenthood sound awful. When you do get pregnant you are fed horror stories of labor. Birth is tabu, and the only acceptable message of childbirth on tv are the stereotypes of women screaming hateful things while being forced to birth in a supine position. Ive heard it all more times than I can count. Especially since I don't conform to society's birthing norms.
The rudeness however, is a sign of ignorance. People who don't matter begging me to get prenatal care for the sake of my child!! I've birthed 11 healthy babies with no interventions and no complications other than a mild hemorrhage which we had under control before the EMTs even arrived. I'm not sure what could be provided for me that I'm not able to do for myself. I've had prenatal care before. I'm quite familiar with the process.
But the other day, in a reply to one of my comments, a very nasty lady said to me "Nicole Naugler, well hi there just want to send greetings BTW you look horribly unhealthy you really do need to see a doctor if you die with this pregnancy you were leaving a lot of children behind to fend for themselves"
Of course I immediately blocked this person.  As someone who homebirths it is an advocate for homebirth, I'm well aware of the statistics of childbirth in  the United States. I also know that statistically I'm safer at home then I am in a hospital. That being said I'm also aware  that it's possible that I may die in childbirth that my child may die in childbirth for the both of us may die.
I know this person was just being rude but there are other people who make such comments how risky it is to homebirth, to not have professional prenatal care but when they are asked to explain they just say it would be safer doing it their way. Just in case. They have this idea that that if something bad happens maybe I'd be better prepared. Here's a little secret about homebirthers. We know when help is needed. We know how to handle emergencies. On the flipside most of those mean critics wouldn't know the first thing to do if they had an unintended homebirth.
I like being pregnant. It's only 9 months long and the first part is pretty boring actually. Don't take the joy from a pregnant woman by constantly trying to fill her head with worry. If you have friends, family, aquainteces who are pregnant don't tell them about your bad experiences, tell them what you enjoyed. Don't tell them they look tired, of course they are, they are growing a human inside their body. Offer to buy them an ice cream, or a burger. This applies to all expectant moms, but especially if they are a first time mom, or a mom who has suffered a loss. They need a little more positive encouragement.
Im 41 years old. I'm raising 11 children and growing one. I'm also running a very busy and successful business. I'm carrying my 12th child. Yes, I'm a little tired. But I feel great. The baby feels great and I don't have any concerns. I've only got till July to enjoy this blessing of pregnancy and that's what I plan to do 🙂
My 9 year old son Urijah took this photo of me today, I'm about 31 weeks.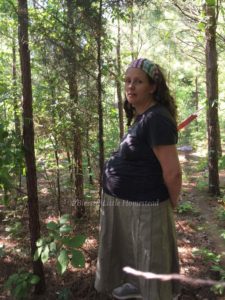 Loading Likes...