One way to discredit someone is to question their mental health. I've been diagnosed by the Facebook peanut gallery with a dozen or two mental conditions. And read on. You probably are suffering from many of these.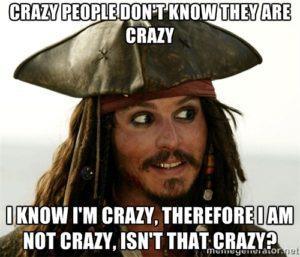 1. Narcacism. It's the favorite. Because I blog about my family and post publically online I am a narcissist. Hmmm.
2. Delusional. Aparently my life isn't what I think it is. I need to rely on others, looking from afar to clarify.
3. Self Deception. Part of being delusional. My feelings are unvalidated.
4. Paranoia. Things aren't as bad as they seem and no ones out to get me. All of this crap is normal.
5. Self Victimization. Goes with paranoia. I'm not a victim. Not really.
6. Phenenoma Pregnancy Addiction. Guilty. I enjoy pregnancy
7. Addicted to Children. Not an official diagnosis. I'm probably guilty of that too. I mean who in their right mind has 11 freakin children?! Certainly not sane people.
8. Internet Addiction. I love this bar. It's my kind of place
9. OCD. I'm obsessed with my internet life see #8
10. Manipulator. You didn't really want to read this post. But for some reason you found yourself reading it. And you thought it was awesome.
11. Impulsivity. Characterized by me deleting FB posts. Even if those posts weren't actually deleted.
12. Non Conformist. I don't fit into boxes. I guess I'm supposed to
13. Manic. Because I have various moods. I can be nice and say "fuck you" in the same conversation.
14. Depressed/Suicidal. I'd have to be right, look at all that crazy shit up there!
Loading Likes...