The past month or so has been busy for all of us. Most of my time is consumed with running my business and my husband is busy managing the home and the  7 or 8 children who stay home, as I bring two to three with me. It's great system and everyone loves it. Now that's things have begun to settle we can enjoy the fruits of our hard work.
As always the business is the priority. That is what feeds the homestead. We are adding more retail this next week and a few other fun things.
People often ask about our homeschooling as we are unschoolers. I use to have tidy little blogs about curriculum and lesson plans but since we don't do much of that anymore it's hard to lay out what we are learning. But knowing what an unschooled child learns is as simple as taking the time to have a conversation with them. Yep. Just talk to them as if you care what they have to say. Crazy I know. Bubble tests are easier.
Lately the little have been into nature movies. With the is this spring or winter weather we have had they have spent a little extra time inside, so that results in a bit more scren time than summer allows.
We have turned the old cabin into a vocational center so to speak. It's the hub of the garden center and shop class. We have invested a lot into it and the children are having fun. Quinten has been building all sorts of things such as shelving for my salon. He's also working with metal. Isaac has also been learning how to build things. He enjoys it, last summer he built custom shelves for the sleeping loft and did really well getting the angles correct.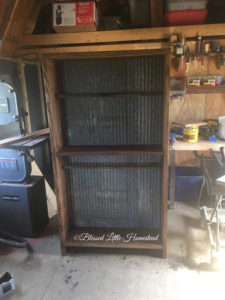 Isaac and Quinten have also been getting into computer stuff. They have a lot of shared interests and spend quite a bit of time together.
Abigail has been consumed with art and reading of course. She hates math so for the 2018 calendar year she has agreed to charge of the book keeping math. Here it is the end of March and she has the hang of it. She still hates it, but she groans less lol. It builds character.
Zachary and Olivia have both recently found an interest in reading. They had been casual readers but now they are passionate readers. We don't push them and let them do their own thing. It's worked out well so far and all of the older children enjoy reading on their own.
We have been preparing for the garden but with 2nd and 3rd winter and the possibility of a 4th, we have delayed planting outside. We were kind of in a panic till wet talked to a few Amish neighbors who are doing the same.
We have most of the inside of the cabin complete and will do a video tour when we are done. It's coming along nicely and I can't wait to share. I keep wanting to do one now but we all have to be patient.
Our treetap experiment didn't work, but we know now to mark the right tress in the summer. It was a pretty good lesson in tree identification tho. And now several of the children know how to identify certain trees in the winter. We also know we don't have many large maples and they need a few more years of growth.
Thats all I have for today. I promise for more photos on the next blog!
Loading Likes...