Mosiah is such a spunky boy. He didn't use to be but as he's gotten older he's become more outgoing. He's also at that age where he's stuck between being a little boy and a big kid.
He loves being outside and running wild. He's full of energy. He's funny. He's loveable. We just love that he is a part of our family.
On their birthdays we let each child choose what they want for meals. Dad had taken Mosiah out shopping for his birthday and asked him what he wanted for lunch and dinner. He was quiet for a moment then started singing the McDonalds filet o fish song. We almost never get food from there but that is what he wanted. (And now you have that earworm lol). He chose cereal and milk for dinner. We don't usually have cereal and milk either.
When he got home from shopping he wore himself out playing with his new toys. Joe took this photo of him passed out and taking a nap. He looks so precious here, I decided to use it for his birthday photo. He may be 5 but he's still our little boy.
Happy 5th Birthday Mosiah!! We love ? you!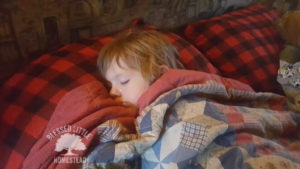 Loading Likes...