For that last 8 months there have been several people who have created pages to bully, slander and harass my family. For 8 months my friends and I have screenshot and reported hundreds of these posts and pages. FB has only removed a handful. On the flip side FB removes any pages or posts that counter.
An example. My mugshot has been plastered on all of these pages. It's reported and FB allows. When one of the trolls mugshot was posted FB quickly took it down. Any pages created to counter the trolls, is also removed.
The last straw was this. Yesterday I took a screen shot of a FB post on the troll pages. I posted it on the homestead page. It was reported of course and taken down. The original post was not. This leads me to believe FB supports this behavior.
I had shared a post the troll page had made. When the troll page took a screen shot, the name of the troll page admin was in her screen shot. I shared it on my homestead page to show what is happening to my family and who is doing it.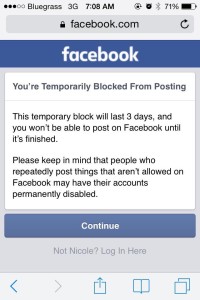 And I am banned from FB for 3 days. As is the Homestead Page.
Of course the FB trolls are Giddy
This is is all for what? To help my children? Bullshit. These women are vile.
Cheri Wheet Beasly runs the Unblessed Little Homestead
Lisa Duran Luthi runs Blessed Little Trolls and their Minions
and as you can see Teresa Frogue runs the Real Truth About The Nauglers.
There are more people involved. You can easily see the people who cause trouble.
Its just one more piece of evidence of how my family is constantly under attack. I don't know these people, I have never done anything to them. But every day for the past 8 months they post harassing, defaming and disparaging comments about my husband, my children, our home, our business and myself.
These people will go to no end. They have physically staked us. They have contacted my clients. They have threatened to physically harm us. There is so much to share, and I will do so soon.
Edited to add a few screen shots I was able to find today in my files. Just a few…..
They are angry the state didn't keep our children and they are determined to take matters into their own hands.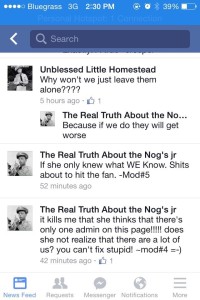 I don't even begin to understand why FB hasn't put a stop to this. But considering they have refused to act upon it only proves their bias. For a company who pretends to speak up against bullying, you sure dropped the ball here.
edited: I found this link to report FB violations directly. Here
Loading Likes...