We first started seriously considering living off grid the spring of 2012. We decided to do a trial run. So in March or April maybe, we cut the electricity to the house off and bought a generator. We lived without electricity till we moved. We did for two reasons. The old house was an Amish house that was wired after the fact and living without wasn't an issue for the house. But the new house was a manufactured home and needed electricity to operate everything. We were also not completiy prepared to move forward off grid. We however had a good foundation of knowledge that provided us with what we needed to live off grid in the future. Including whether or not we wanted to go off grid.
The refrigerator was one of the easiest things to give up. If you look at your refrigerator most of what is in there is shelf stable. You will also notice that you toss a lot of thing that don't get used up because they are forgotten about. At Christmas that year we had gotten a big huge fancy fridge which we later exchanged for a deep freezer. A freezer is great to have, even off grid. But we will get to that. When we moved to the new house we picked up a free fridge after a bit but gave it away we when we moved to the homestead.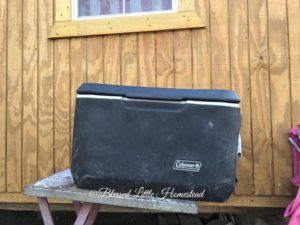 (We keep the cooler outside at an angle to drain)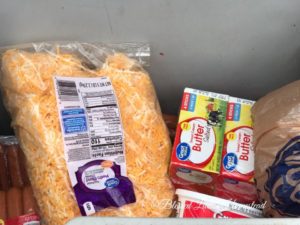 We put the shelf stable stuff on the shelf and bought a good cooler that keeps Ice for several days. We do not refridgerate eggs. If you are ever unsure if an egg is good, see if it floats. Eggs that have gone bad have more oxygen and will float. A sunken egg is good to eat. A good way to remember is that the treasure is at the bottom of the sea. Eggs can last quite a while on the shelf. We go through eggs pretty quick here. We go through a lot of things pretty quickly here.  So nothing sits around too long. And yes, we buy food at the grocery store. While we are learning sustainability we are still reliant on my grooming business for food.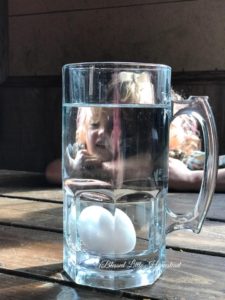 This time of year we don't usually need to keep ice in the coolers. In the summer we keep ice in the water cooler and the food cooler. A bag of ice lasts a few days in the food cooler. We use a bag every 1-2 days for drinking water. We figure the costs into our food budget and still keep within budget.
Its been 4 years since we ditched the fridge. We have one at work because I was going to sell raw dog food and baked goods. I still plan to but not for another year. Our deep freezer is being used elsewhere and we are still debating on whether to invest in an elect deep freeze and solar for it or getting a propane freezer. These are a must for frozen food storage, but we don't use a lot of frozen foods so it's not been a need.
But we do not miss having a refrigerator.  Do you think you could go without yours?
Loading Likes...