Last year when our children were taken I knew we had a battle ahead. We are about two weeks away from the one year anniversary and we're still fighting. CPS spent 8 weeks investigating our family and only requested that we register the children as homeschoolers. The original caseworker did request that we fence in the burn pile on her initial visit. CPS petitioned family court to return the children in May. The courts continued to retain custody of my children, until my children started to emotionally breakdown. My four-year-old was about to go into his 6th foster home. My two teenage boys never even got to go into a home. They spent eight weeks in a facility for troubled teens. The kind of place where fights broke out daily kids were locked down like a prison. After eight weeks and still no solid reason to continue to keep my children, they gave us physical custody and the children came home. They should've never been taken in the first place. It sickens me to think that they can tear families apart to go on a witch-hunt.
The courts were digging for anything to justify their actions. They called in my estranged stepson who told tall tales, and displayed such concerning behavior I don't think anyone was prepared for. They pretended to investigate a "missing child", suspecting that we had lost a child along the way. Used this "missing child" as an excuse to delay the return of the children. Physical custody was finally returned to us July 2nd. In September, we went for our deposition. The only finding family court made was dependence. Through no fault of our own, we lived in a dilapidated house although CPS said the cabin was suitable for summer and had to be prepped by winter. We stated to CPS that we had plans for a new cabin by winter and they said that was fine as well. One of the two needed to be done. Family court, only based on photos, determined our home was unfit, even tho the investigative arm (CPS) had been to the home and said otherwise.
In November, legal custody was retuned. Even tho we have legal and physical custody of our own children, (seems weird to even say that) family court keeps us on a tether. In an unprecedented move, they are holding forensic evaluations over our head. It has yet to be scheduled, and we just keep resetting the court hearings. What they are looking for, I don't know. But I do know that our political views have been brought into question a few times. Non conformists beware.
In the mix of all of this, is a group of bullies who have dedicated immense amounts of time and energy doxxing and harassing and stalking my family.
In the beginning of course there are lots of people who had interest in our story and there's lots of discussion for and against, and there still is and that's ok. But what's not ok is the pages and blog that serve no purpose other than to defame, intimidate and threaten my family. It's beyond discussion. People have stalked me at my home and work. I've been followed. Photos have been taken and posted of my home, business and vehicles. And people ask me "who are these people?"
While I don't know the names of all involved. I do know a few. First we have Sally Davis. I've never met Sally Davis. I had no idea who she was until a few months back. Sally lives in the Lexington area and is a blogger. She writes a blog that has been harassing another woman for several years. Now she writes about me. I don't know much about her except that her perfect prodigy son, as a result of her perfect parenting, died of a drug overdose a few years back. She is spiteful and seems to enjoy making others miserable. But why would she blog about me? Of all the people in this world she chose me. Well it's worth noting that Sally is friends with Sheriff Todd Pate's mother-in-law. At least she can be found on her friends list. Outside of that one can only speculate as to why or how they know each other or what involvement they may have. Only Sally can answer what motivates her focus on my family, and not on the many others who are truly abusing their children.
Another person of note, is Lisa Duran-Luthi, a retired attorney out of Louisville. Lisa is friends with Sondra Johnston aka Sondra McEntee. Sondra is the person who filed the menacing charge and the one who called CPS. Lisa runs one of the FB pages. Lisa may or may not be giving legal advice to this group. It sounds like they are being coached by someone with legal expertise. I can only speculate as to who.
lisa posting as her page
Al Wilson is a local man who has interjected himself into our lives. He is on a personal mission to make my husband "man up" or pay the price. Al is suspected of colluding with others to create havoc and even to the point of encouraging locals into filing false charges against my husband and I. We are currently gathering info to expose this. Having never been to my neighbors home till last month, he has been seen numerous times visiting since then. Al is friends with Lisa and Sally and several other notables in this group of doxxers. Al is under the impression he can force us to live as he sees fit. Nothing about my life is relevant to him. I had no idea who he was until he forced himself into my life.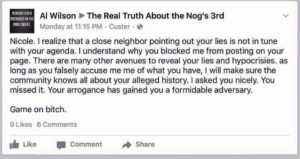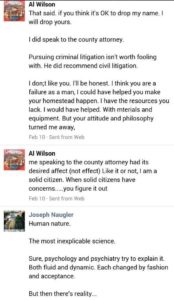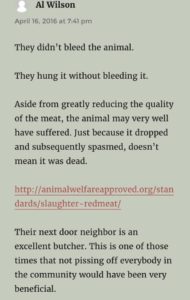 We never had an issue with our neighbors till their adult daughter, Linda Sneed, moved back home and began driving past our house speeding. My husband yelled for her to slow down as she drove by. One morning, last October, she intentionally hit our vehicle. Part of the recording is below. Linda has been spreading rumors about our family. Namely my husband in a effort to trump up criminal charges. She attempted to stir up trouble at the local store she works in. We believe she is now colluding with Al Wilson.
note: language warning in video. (Info in video description-
On October 25th 2015 as we left our home and drove about 100 yards from our driveway Linda Sneed -who lives next door-hit our van TWICE from behind. She said she was trying to get us out of her way and get around us.. Its a drizzly day on a single lane gravel road. You can hear her aggression. She hit us because she like a few other people in our area, are still angry about our incident with the Sheriff and CPS last May. I personally called law enforcement to report the accident and Deputy Tyler Hardin arrived on the scene. Breckinridge County Sheriff Department has refused to write an accident or police report or file charges.
This is an audio recording of Ron Sneed (father) and Linda Sneed (daughter) and Nicole and Joseph Naugler awaiting the arrival of law enforcement.
Ron Sneed is the neighbor. We lived next door to him for over 2 years before we ever had an issue. Early last month he had hired my oldest to work with him butchering animals. Al Wilson decided to take his cow to Ron, and upon his inquiry of my family, found out Jacob was going to be helping Ron and Al told Ron he didn't want Jacob touching his cow. After Al visited him again my neighbor has since filed a complaint about the goats and has told Jacob he doesn't need him. (We had a verbal agreement the goats could graze till spring and the goats have been fenced in for 2 months).  Last Wednesday he told my 6 year old that he was going to shoot our dogs and later reinforced to us that he would shoot any dogs, goats or "anyone else" who cross his property line. He even took some items that has fallen from my sons fort, including a tarp and a football.  These photos are of his dogs running loose in the neighborhood and of my sons tree fort on our side of property line.
*** I wanted to add that when we had the accident we were given the option to press charges we declined just asking that there be a police report on file should any more incidences occur.  We have done all that we can to  eliminate any contention with our neighbors.  I find it interesting that there is not a police report on the accident and when I called several months ago to file charges in this incident but I have met with nothing but brick walls.  But yet we find ourselves in court over a complaint about our goats. I'm still trying to figure out how the sheriffs office and the prosecutors office find goats at-large to be a more concerning issue than vehicular assault. ***
By themselves, the incidents look like nothing. But as a whole it shows the actions and intent of a small group of people. People who claim to have inside info, and are convincing others there is truth to their story, to empower their motives. The following photos are just more evidence of such. Neither story is true. None of them have inside info. And if they did, well, CPS and family court would be in an unwelcome predicament.
Of course I am only scratching the surface. This particular post was 4 days in the making. How these people have time for all of this is beyond me. I will be journaling past and present events as time allows. Our story needs to be told. Furthermore, as these people will continue to stalk and harass us, I will publicly document their actions..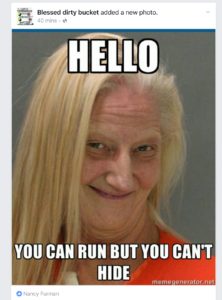 Loading Likes...