The last two months have been busy. We are finally getting stabilized. I don't think people realize how long it takes to not only build a business but to recover from a few serious setbacks. We've had a lot of support and that has been a blessing. I appreciate Blessed Little Grooming Company clients and our Blessed Little Homestead supporters. I'm going to flashback for a moment.. Some have asked what the GFM went to. A quick breakdown, I don't have exact numbers but $45,000 was raised. GFM took around $4,000. We spent $3,000 on fencing material and some building supplies in the very beginning. We spent $1,000 on a dumpster and clean up day. We spent another $4,000 on tools, equipment, more materials etc. We bought a van $3500 plus repairs $800. We bought the "garden shed" $9,000. We spent about $2,000 on insulation and walls. We spent about $3500 on bedding and such, clothing and other items for the for the children. We lived on the rest for the months of May -October to supplement the salon income. The attorney was paid for with additional funds, as was the motel stay. For our safety we were advised to be out of the county as much as possible. Joe went to the homestead daily to check on animals and take care of things. We often had court, visitation and other meetings, this resulted in a lot of travel and we spent time together  at the homestead on those days, but not much. If you have never had all 10 of your children taken, you can't even begin to assume how we felt, or the emotional state we were in being at an empty home. Being pregnant and extra emotional, it was in my unborn child's best interest to focus on other things.
We have moved forward. I'm focused on today. My family is well. We are still healing, but we are ok. As I started out saying, we are stable. We've caught back up from the relocation. The business is growing strong, despite some attempts to undermine its growth. The homestead is growing as well. The garden did good but not great. We had fresh veggies all summer and still get a few. We did not plant a fall garden for several reasons, we aren't discussing right now.
We are focusing right now on the small livestock. Chickens and rabbits. We have reinforced our cages. The older birds are free range, as is mom and her chicks. Her last clutch was caged and went missing, we don't know if it  was a raccoon that got into them or a snake. It's always something tho. We still have two goats, Annie and Marble. We may breed Annie again but the milk production was previously not worth the effort. Marble is strictly a pet. Maggie, Alma and Bandit are doing well. They are good with the animals we have. I am grateful Ranger has found a home and we can have harmony again. As I stated on the FB page the other day. It's not uncommon for shelters and rescues to put deadlines on red flag dogs. Dogs that needs homes asap. Or what? They get euthanized. So I red flagged Ranger. Why not drop him off at the local shelter? Because I've got far more people watching this page than the local shelters do. Because ranger had a far better chance of finding a home here than he did in a rescue. And I was right. He had numerous people looking to help him and he found a good home.Flame me if you like. But I stand by my actions.
As I mentioned in the blog the other day, the children manage their finances. Abigail has worked hard and saved enough money saved up for her horse. She found one that was perfect for her. Beauty is her name. She's a 5 year old quarter horse. Abigail is in love. The horse is amazing. She is so sweet and gentle. Perfect for Abigail. And yes, we are aware of the costs of keeping a horse. Abigail has been researching and planning for several years and she is capable of managing the upkeep. So let the girl be happy.
Jacob is working full time, has a serious girlfriend (he said for me to tell you all she is amazing) and keeps up on his homestead projects when he can. He's not had time for writing his book but says he will be making more time for that. (It's a western fiction)
Quinten is building everything he can and has been working on his woodworking. He did all the new woodwork in my shop. The self wash sign was stained to match the baseboards he did. I just didn't get the after pic. We will be updating the window and door frames as well. I'm just happy to finally have some baseboards! We moved the fish tank under the sign now that we finally got the electrical work done. (See my lights are up above the counter and table again) He also built a wagon to attach to his bike and is building the bamboo project. He hoped to be done by now, but we hit a slight delay. Soon tho!
Isaac is now working with me 3 days a week. He does well as my assistant. He enjoys working with the dogs. He has a recent interest in Lego's and has been using his money to buy them.
Since we have had beautiful weather, the children have been keeping busy outside.
Gabriel turned a year old this last week. Gabriel has a very bright personality, he's always going around and exploring. He keeps trying to walk, he's only taken one step once.
.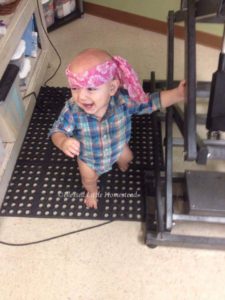 This last week he had been staying home and having a blast, although I do miss him at the shop, and so do the clients. Daddy wears him out and he's usually crashed when I get home. He still nurses several times at night and we play a little before I leave for work. This is him crashed on "our" pillow when I came home the other night. He doesn't want his own pillow. He insists we use the same one.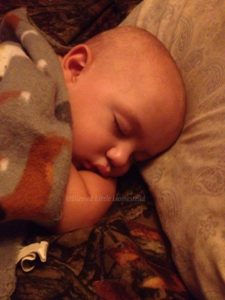 Olivias been cooking more. The other day she made pancakes in the shape of everyone's initials. Now that Gabriel is home she only comes to work 1-2 days a week to make bows.
Nothung much is new with Zachary, Urijah, Ezra, Lucas and Mosiah. Although Mosiah is getting chattier everyday. All 5 of those boys are busy outside from sun up to sun down playing hard and helping with chores. I keep meaning to do a video with them, it should be fun.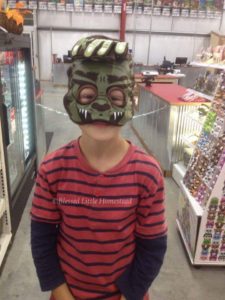 Weve been trying to complete some general homestead projects. We had been watching this Woodstove which was going up for auction. One reason we hadn't split wood (we have plenty of logs cut) is that we weren't sure which wood stove we would be using. This one uses smaller logs, so I'm glad we waited and don't have to cut and split twice. We have to reconfigure the set up, but we should be good for November 1st!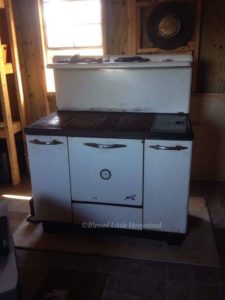 Hope you had a good few months, I will post an update again next month. I also wanted to add that we are expanding our bow selections for the holidays. Check out our FB page as we add more items each day.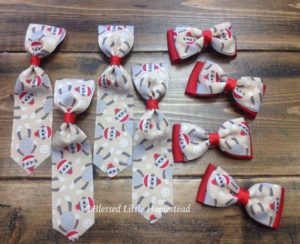 Loading Likes...