Jacob and Quinten both got jobs as actors at Field Of Screams this year. They really enjoyed it and I took Abigail, Issac and Olivia to go check it out one Friday night.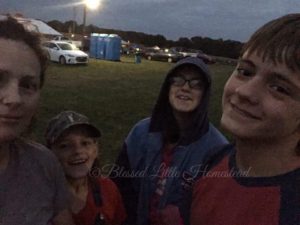 We had a lot of fun. We did all the events, but we weren't really impressed with the hayride. The field and barn were awesome. They did a great job on the props and the actors did well.  We had a blast. I don't get scared like creeped out scared but I am startled easy. Three of the actors caught me off guard and got me pretty good, including Quinten. He was working in the lazer tag. That was a neat event. Olivia insisted on going in first the entire way and she loved it. One actor ~Jason~ jumped out of the corn and startled us both, she was laughing so hard she fell down. Isaac was the only one of my children who were afraid of the dark when they were little but he's now the biggest horror fan of them all. What a way to embrace your fears right! Abigail loves the creepy stuff too but she appreciates the artistic aspect of it all as well. And the people who do the makeup are every very talented.
Jacob started working the first weekend and then suggested Quinten work as well. Quinten took a few of the extra roles at first but as the season went on he was able to get better roles. His favorite was Freddy Kruger. (He's never even seen the movies)
Jacob had some pretty good roles as well. Boogeyman was his favorite
Jacob got a best actor of the year trophy. It's peer nominated from the workers. Quinten got actor of the night for cornfield one evening (each section is voted on by visitors)  Actors of the night splits the evenings tips.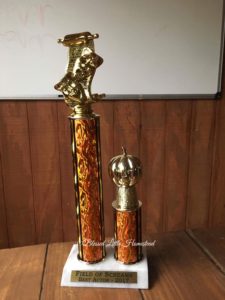 It was a fun experience for everyone.
Now that I know what to expect, I think next year we will take a few of the other children with us.
Loading Likes...