*Warning. This post may be upsetting to some. It talks about childbirth and death.
This is my birth story.
I woke Friday morning as usual and got ready for work. My husband decided to drive me in and run a few errands. On the way to work I had some discomfort which felt like gas or contractions. When I arrived I had a large bowel movement which I attributed to the pain. I went to start my day when I became dizzy, so I laid down a moment. Then I felt nauseous so I headed to the bathroom. My husband had left to the store and when he came back I had just laid down on the bathroom floor, I was just really dizzy and nauseous. I told him what was going on, he decided we needed to go to the hospital. He left the room (Olivia stayed with me) to get things ready and I had sat up. When he had come back I had started to pass out. We went to the ER to have my blood pressure and baby checked.
By the time I arrived at the hospital, about 15 minutes later, I wasnt able to stand. I was barely keeping awake. They sent me straight to Labor and Delivery. They took my vitals and my blood pressure was extremely low. They tried to use the dopplar to hear the heartbeat with no luck. They did a blood draw and got the ultrasound machine to try the heartbeat again. That's when we learned the baby had passed away. There was no fluid or heartbeat. My heart didn't listen. I was just thinking, let's get this moving, and see when the baby is born. My husband knew the reality. I saw it in his face.  My blood results come back and they had to do a redraw as the results weren't even charting. They thought it was a mistake.
While I waited for the second results, I can hear what's going on, but my speech is slurred. I try my best to communicate. I keep saying, well let's just see. I wasn't ready to admit– accept– that my baby was gone. The doctors came back and confirmed the blood test results. I had developed Disseminated intravascular coagulation. I had not experienced any pains, or any other signs of distress. My blood was not clotting and my uterus was bleeding internally. Since the blood wasn't clotting surgery was risky, but necessary. They didn't know which would be safer, induction and risk of hemmorage or surgery, but time was critical. The doctor gave us "the talk" and we prepared for the worst, hoping for the best. I looked at the doc and my husband and said "you are scaring him". The doctor replied "well this is pretty serious". They told Joe since I would need to be sedated, he couldn't be present during surgery. This worried him even more. He called in the elders from church and I was given a blessing. During the next hour after "the talk" my contractions had picked up, my dilation was progressing and the doctors had time to consult with each other as well as specialists from other hospitals. They decided to let me labor, while loading me up with plasma, vit k and cryo. Joe stayed by my side the entire time, helping me focus on taking care of me, and not shutting down from heartbreak. The staff complimented us on how well we worked together and how with everything going on we stayed focused and in good spirits. They said it helped me get through the ordeal better. I'm truly blessed with such an amazing husband.
Labor was intense. I was unable to move, I was emotionally broken, and it took me about 5 hours before I was dilated enough for them to decide to break my water and get the next stage of labor going. I had quite a bit of blood given and drawn. My arms and hands were poked and poked again. Due to the circumstances, and the risks I was still facing, I was sent to ICU to deliver. This was a hospital first, so it was quite the unique organizing.
I told the nurse I was sure they had me hooked to every machine they owned. As someone who births practically alone at home, it was quite crazy to have about 15 people in the room. We had ICU nurses, L&D nurses and several doctors. My pain was intense. I was able to labor as I saw fit, even with the tubes and wires. I deliver on hands and knees, but I had IV's in both hands so that meant I held myself up on my knuckles. The doctors were discussing if it was time to break my water, and as the doc decided to, it went all on its own. It was full of blood. I was dilated at a 7 and they gave me low levels of pitocin to boost. I knew I wouldn't be strong enough to labor, especially on pitocin without pain meds. I did not want an epi, and because of my bleeding they said  I couldn't have one. They gave me morphine. I asked for more. I remember half joking that this was my 12th birth and first to request drugs and I wanted all 12 births worth.
The blood loss was intense. I had been putting all my focus on labor. I tried not to think about the baby, I needed my strength to get through this part. Once the urge to push came, I gave it everything I had. I admit, I was still hoping for the impossible miracle. I pushed and pushed. The doctors caught the baby and I remember asking 5 times "boy or girl" before someone heard me "It's a Boy". They wrapped him and gave him right to Joe.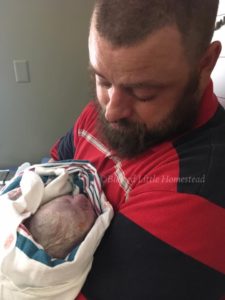 He was beautiful. He was perfect. The doctors had suspected before birth, he may have had a development issue, but he was fully developed. Based on their observations they believe he passed away sometime the night before. I took a video of him moving just before I went to bed. The placenta had a small abruption and was little calcified. Their guess at what happened was that the placenta had started to calcify, the baby out grew what the placenta could manage and the amniotic fluid was too low. His passing caused the abruption, and the bleeding and caused me to develop Disseminated intravascular coagulation. I asked if they could have detected this prior they said it was possible but with all other indicators, I was otherwise healthy. I had not experienced any pains, or any other signs of distress. And he looked perfectly normal. He looked like he should be ok. They said even if they had detected it, we probably couldn't have saved William. I still carry a lot of guilt.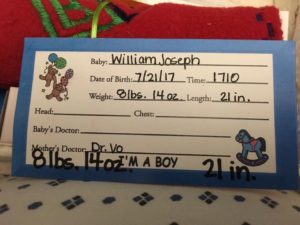 Joe helped attend to the baby, getting measurements and photos. And just holding him. They were working hard to keep me stable. I had 3 IV's and several other machines hooked up to me, all of which were tangled from me moving around in labor. Once I was settled I got to hold him. I just kept praying he would wake up. That he would grab my hand back, when I held his. He didn't. He never did. He never will. He was gone before we met.
The hospital arranged a photographer from Now I Lay Me Down To Sleep. Joe bathed William and dressed him for photos. We arranged for all of the children to visit. That was the worst moment in my life. Isaac was with us at the hospital that morning and was the first to know. Jacob came to get Isaac after work, and so both boys were aware. We did not tell the others. When they arrived they were all excited to meet William. I can't even begin to describe the pain I felt breaking the news. I can only say I am grateful were all together for that time. My heart still hurts from that moment. That's something else I will carry with me. They each got to hold him, they had photos taken by us and the photographer. We visited as long as we could and then it was time for them to go back home.
Overnight I didn't sleep aside from nodding off. Joe and I took turns holding William. The nurses kept up on me, checking my vitals, bloodwork etc. Morning came and it was time to say goodbye.
"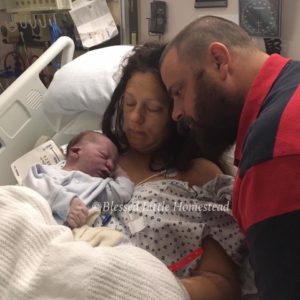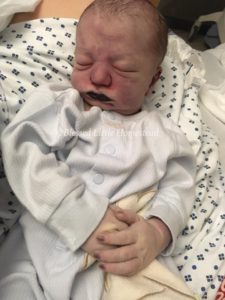 We did all the paperwork and got William ready. Joe took him home. The older boys had built a casket and a dug burial plot on the homestead. The children all put something special in and we buried our 12th child. I was unable to attend, but thanks to FB video chat, I was able to be part of it. I think this will be helpful in our healing, and William is close we can visit and make him a special place.
It's now Sunday morning and I am still in ICU, my charts look good so I am moving to recovery. I should be good to go home tomorrow. I've been in this bubble for what will be 4 days. I know going home will be another hurdle emotionally. I know people will be asking. I don't know how to handle that.
The staff here at Hardin Memorial have been amazing. Observing the team work made me feel very comfortable. That's very important to the care given. My needs were listened to. I felt I had control over my medical decisions and never felt bullied. I understood most of what was going on and when I didn't they made sure to explain things well. Three doctors oversaw my care and all three were gentle, kind and professional. The nurses took care of me like I was a dear friend. I am so grateful they made this traumatic experience as easy as possible.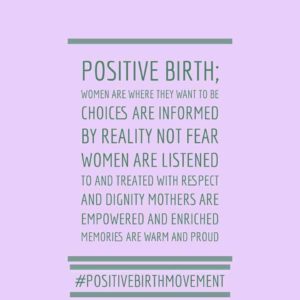 I always tell people, plan the birth you want, but prepare for something else. I'm always asked, when would I decide to have a hospital birth, I always said when I needed one. This was necessary. I would give just about anything to have had a better outcome but today I'm just going to focus on the fact that I survived it, and I have 11 amazing children at home and a granddaughter to spoil and that I am extremely blessed. I will miss William and feel his void every day. It will be a while before I am ok. My family will need time to heal. But we are strong.
Loading Likes...