We had decided last year we wanted to downsize goats. We've had a posted on a local FB group and had a few people interested, but only sold kids. Recently we have decided to put them back on the market. Abigail wanted to keep Shepherd for his coat and one of the baby girls, Marble, for a pet and sell the rest. And they are still for sale if anyone is interested.
We started the afternoon with some target practice. We like the children to be comfortable with guns and we want them to understand the danger of them. We use a .22 rifle. It's light enough for the younger ones to use. Come to find out, Urijah is a pretty good shot. 3 of his 4 shots hit the target.

After a little little target practice Abigail put Shepherd down. She is the one who takes care of the goats, she is the one who decided who stays and who goes and she wanted be a part of as much as she could.
She and Quinten butchered him. She took the hide.  The littles observed. I love how Mosiah stands. Whenever there's something to watch from a safe distance, he stands this way. Every now and then he will stick his hands out and say "back up". Isaac dissected the organs. We let everyone who was interested look over the organs. Issac made a few videos. He said he was going to look up the organs so he can remember what he got wrong.

One thing we expressed with this exercise is gun safety. The children, especially the younger ones, saw first hand how dangerous they are. I know a few questioned the rifles by the door in the video we did, but they weren't loaded. When loaded they are kept up high, easy for adult reach. We also discussed the purpose of raising animals for food and other uses and gave thanks to Shepherd for his companionship and serving his purpose.
We tried to use as much of the goat as possible. We gave the dogs a few pieces and discarded the intestinal track. Alma got the liver. His reward for being the best guardian dog ever. Tonight's dinner is bbq and we will use the raw bones for a few projects such as carving and the cooked bones with make a broth for the dogs. The head is being saved for tanning, and if the children are up to it, more dissection. I will update on the April Homestead journal.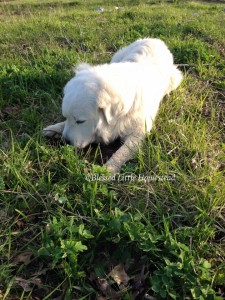 Loading Likes...