---
Jacob bought this hat back in February. He loves it. It's a crushable wool hat which is a must have for an older brother in a large family. It's been crushed many many times. He wears it often and it has faded in the sun, but it's still in excellent shape. It has a wide brim and fits to your head as you wear it. Jacob says it doesn't bother his head like some hats have. It's extremely comfortable. It's heavy enough it kept his head warm in winter but inot too hot in the summer. Plus it looks great! Jacob bought brown but it's available in black.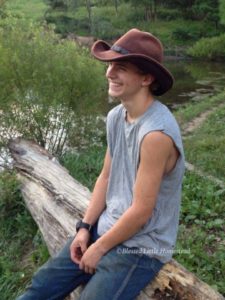 "I feel so swell and handsome in my hat
I bet that others wish they had in fact
A hat as this, a hat as that, a hat so fine, a high silk hat"

~Larry the Cucumber
get your own here!
Blessed Little Homestead, Blessed Little Grooming Company LLC under Nicole Naugler is a participant in the Amazon Services LLC Associates Program, an affiliate advertising program designed to provide a means for sites to earn advertising fees by advertising and linking to Amazon.
Loading Likes...