Ezra is such an amazing young man. He's so sweet and compassionate. He's like kind of child you just love to snuggle.
Hes a rugged boy. He loves wrestling with dad, it's his favorite thing to do. He will look for any opportunity to jump on his back and horseplay. And dad loves it. They have a lot of fun and it only takes a second for the others to hog pile them. Ezra knows I startle easy and has gotten pretty good at scaring me when I come home. He will often hide under my bed and tag my ankles, but not consistently enough to where I expect him. Last night he got me really good when he changed his game up completely and hid behind the house and caught me as I turned the corner.
Ezra loves superhero's, video games and climbing trees. Ezra loves exploring and learning about as much as he can in the world around him. He's responsible and takes initiative. He loves helping others. His little brothers look up to him. Ezra is such a wonderful part of our family.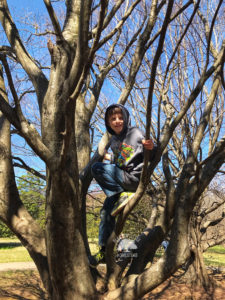 Happy 9th Birthday Ezra. We love you
Loading Likes...