In 2015 a terrible chapter of our lives began. It kind of split into two stories out of one. First is the story of how we had to fight the Commonwealth of Kentucky via the Breckinridge County courts for the right to raise our family the way we saw fit under the law, the second was fighting an aspect of society that can be just as dangerous,
I had a separate blog for that story, but I am now combining for financial reasons (the year is almost up for the hosting) and it's easier to keep my blogging in one area. I also had people helping write but I just want to keep it as simple as possible. I've rewritten a few things as they are moved here.
The Synopsis
Homesteading isn't the same as farming. Homesteading is a lifestyle, farming is a job. People choose this back to basics lifestyle for many reasons. There is not a one size fits all way to do it.
In May 2015, our family had recently embarked on this back to basics homesteading life was under attack from local authorities. We were accused of doing things the wrong way. When we stood up for our rights and due process, the authorities retaliated. In a matter of a day, our entire family was ripped apart. My husband and I were separated ( I was in jail) and our children taken to several different foster homes except the two oldest boys who were put into a facility much like a juvenile detention center.
Thanks to a great support system, the our story went viral. A friend set up a Go Fund Me account in my husbands name while he focused on getting me out of jail and our children out of state custody.
We had been living in a rough hand built cabin. It was a stepping stone in our path to self sufficiency. While it looked rough to most, it was clean and safe for our entire family.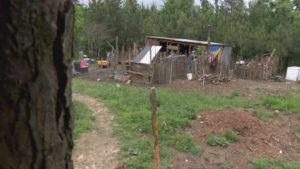 This is the cabin we built. The open area is where the infamous "4th" wall existed. Some critics believe there was no 4th wall. Most people understand that a lack of a wall on that side of the cabin would have meant we were highly exposed to the elements of winter and would have not survived, especially in that years winter. Photos of our children in that time frame show they were happy and healthy and not like children who had just suffered through winter in a 3 walled cabin. The logical conclusion is that there was a 4th wall, removed for good weather.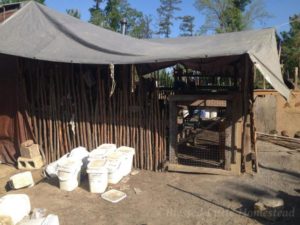 The fence, as you see here, was hand built. Its a beautiful fence, and makes a great addition to the outdoor eating area that had a tarp for a canopy. The outdoor kitchen used a rocket stove to cook. It was rugged and back to basics, but it worked.
We invited the media out to see the homestead on clean up day. Of the 28 acres, the photos were limited to the same few things. You can see them here, Some people had a fit over these photos. Things aren't always what they seem. Sometimes they are. There is no context in these photos. They are widely misunderstood. Lets look at the cabin right after our children were taken. The "stick walls" are actually a fence for the outdoor kitchen. The trash was located on a separate area of the homestead. Not near the cabin. The photos of the trash was trash that was in a dumpster.. The trash barrels were dumped there. The photos of the rubble was rubble that we had been cleaning up bit by bit since we moved in. The cabin was rugged. We never denied that. It was built for the sole purpose of surviving the winter and to save enough money to build a new cabin come spring. I had been working my own house call grooming business while getting my new salon open. My husband and our two oldest sons had jobs lined up for cash and supplies and they would build the cabin bit by bit over the spring/summer months to have it ready by my due date. Had the state never intervened, it would have been done.
But instead, we spent the next 8 weeks fighting for our children while also getting the grooming business up and running. In July we were finally given physical custody and at the next court date, legal custody was returned. The only findings of CPS were that we did not register as homeschoolers per state law. No abuse or neglect findings were made.
In addition to the custody case, we had separate criminal charges. My husband was charged with menacing, a charge that was filed a few days before the children were seized. He was at the property of an acquaintance, with permission of the property owner, when an argument ensued with one of the tenants and she claimed she was threatened with a gun. I was charged with disorderly conduct for my opposition to the sheriff taking my children without presenting me with a warrant, and resisting after I tried to protect my unborn child when the sheriff and his deputy slammed me against the patrol car. Since the criminal charges were wrapped up with the family court case, ( which is unusual and unethical) my cases were deferred and my husband was forced to take an Alford Plea so that we could retain custody of our children.
Regarding the GoFundMe, there was some discrepancy to how much money we raised. Many news outlets reported the business loan in with the donations. The business loan was acquired several months before our children were taken and the business was just days from opening when the Go Fund Me was set up. The GoFund Me was not used for legal fees. Those were paid for privately by friends and other donations. Although it is legal to use GFM for the legal fees in our case.
This story is a story because first, we wanted the story told. We have been journaling our lives for over a decade. And this was no different. We wanted to show the bias and corruption of the system. We wanted people to see what happens when you are a bit different. Our children were and are happy, healthy and educated. They were/are cared for. But as with any news story, things got twisted, gossip spread and people logged an attack on us with the intent of keeping our children from being returned, and once they were returned, they wanted to do everything they could to see the children were removed again, our business destroyed and my husband and I locked up. Their reasons vary, some are politically motivated, some are busy bodies, some are just plain spiteful. They despise everything my family does, from home birth to homeschooling to speaking out against the violation of our liberties and our disgust with the infringement on our rights. They want us silenced.
Blogs
These are randomly written, but listed in order of time line the best I can
Loading Likes...