Ezra is pretty laid back and kind of a wall flower but he's getting better at being assertive. He's a simple child who likes to just hang out with you. He's very sweet and cuddly. He and Lucas always race to see who is first to give me a hug when I walk in the door. He loves to climb trees and build forts. He loves to wrestle with his dad.
He prefers math over reading because it makes more sense. He loves science and nature. He wants to learn more about the plants and animals in the woods.
Ezra doesn't have any hobbies yet, but he loves to play more Minecraft. He also likes to play board games and card games.
Ezra comes to work with me one day a week and enjoys helping out but he always takes a nap when he's here.  He prefers the laid back style of the homestead and the salon is far busier. He just finds a spot to curl up and he's out. One the homestead he goes all day long and rarely naps!
We are blessed with such amazing children. Each one is truly unique and special in their own way.
🎉 Happy 8th Birthday Ezra 🎈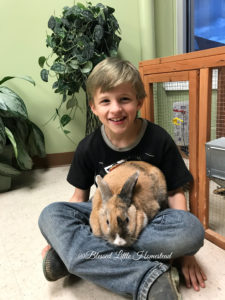 Loading Likes...