One of the biggest wastes of money is buying stuff we don't need. A few years ago we purged our belongings for the second time. And we've managed it since then. We refer to our lifestyle as minimalism. Living simply. It's lovely. Clutter was a big source of stress. Both my home and business are streamlined. With running a business and a large family time management is key. Eliminating unnecessary stuff saves time and money.
Last week or so I was scrolling FB when one of those click bait lists came across and it piqued my interest. "The Richest Person in Each State" So I looked to see who's Kentucky was, expecting a horse breeder or bourbon brewer. Nope. B. Wayne Hughes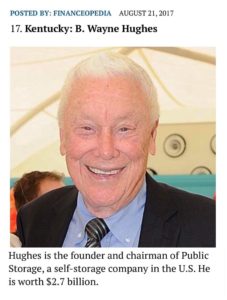 Self storage. This guy is worth $2.7 billion because people have more stuff than they can house in their homes. Now I understand that sometimes storage is needed. Temporarily. But loooking over the reasons most people use storage as an extension of their home. The cost of maintaining even a small storage unit can be a few hundred a year, not to mention the cost of the items inside.
Even if you aren't renting storage it's still costly to store unused items. A good quality storage tote runs $5-$20. Plus unused items that's sit too long become damaged, unusable. I know this from experience. I would also save stuff only to forget that I saved it. It would never be used or it would end up replaced.
Some tips on managing "stuff"
1. Stop buying it. Make a list of items you need and keep to a budget. Avoid impulse purchases.
2. Swap old for new. Make it a habit to donate or sell what you are done using to make room for new treasures.
3. Evaluate. What is the purpose of having it?
4. Organize. Go through closets, drawers etc. Make what you have accessible.
5. Inventory seasonal stuff. Save it to a file on your phone. That way you don't end up with duplicates.
I have 3 personal storage totes.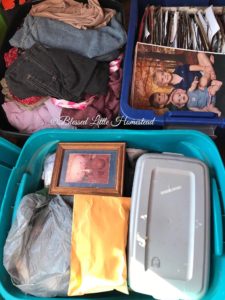 One is for clothing, another is my photos and the 3rd is random items, a few photo frames and paperwork stuff. I would like a better way to store photos, we have a small shelf of albums but they are bulky and it's time consuming so I keep them in a sturdy tote and a few times a year we filter through them.
This is about the same for each member. We all have a clothing storage tote and a personal effects tote and excess books, games, craft items etc. These are easily acessaible in our loft. Now that the home is organized and stream lined (just a few tiny projects to wrap up) we now are working on the outdoor storage, bikes, tools homestead equipment.
What does storage and clutter look like in your home? Where do you need to focus?
Loading Likes...